A quarter of the bones in your body are in your feet – protect them with the Heeler Met
The Heeler Met Bump S3 is capable of withstanding the heaviest of drops, while keeping your feet dry.
A quarter of the bones in our bodies are in our feet. Anyone that works in risky workplace environments knows how important it is to protect the vulnerable foot. The Steel Blue metatarsal protection (Met-Guard) is built into the boot and therefore not visible, providing maximum flexibility with every movement.
Foot injuries cause absence from work and high costs
Foot fractures are among the most common work-related injuries. Objects at work sites can drop and injure the foot easily. The healing process is painful, and the metatarsals can take between 4-8 weeks to heal. These type of workplace related injuries can be prevented, and costs reduced if the right safety footwear is applied. Steel Blue's Met-Guard boots are a great choice for employees in risky environments as well as their employer.
Built-in Met-Guard Protection: 100% Comfort Guaranteed
Usually a Met-Guard is exterior to the boot, however, all Met-Guard boots in Steel Blue's range are built-in. The built-in Met-Guard that protects the entire top area of the foot enables more flexibility and comfort for the foot and above all; the boot is Waterproof. This has been achieved by continuous innovations and product developments at Steel Blue.
The Steel Blue Met-Guard is built into the boot, providing maximum flexibility for every movement.
The Heeler Met Bump S3 is a new Waterproof safety boot that has just been added to the range of Met-Guard boots. This Waterproof boot is suitable for damp, wet environments, walking through snow and shallow water whilst keeping the wearer's feet dry. The High Leg boot is capable of withstanding the heaviest of drops, whilst offering 100% Comfort.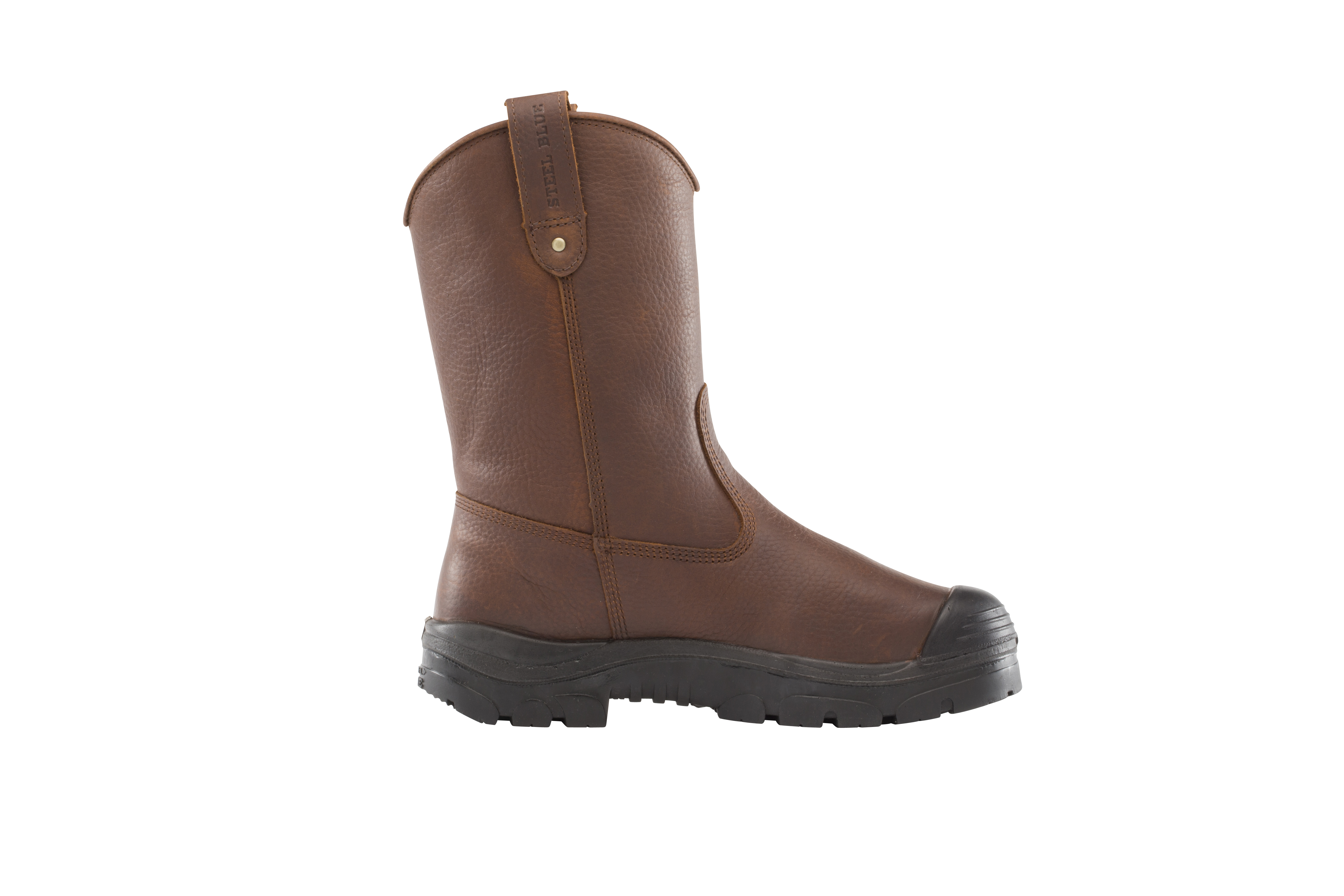 The Heeler Met Bump S3 is a Pull On style safety boot that is packed with our famous boot technology features. It has stitched seams, sealed with waterproof sealing tape  to ensure feet stay dry. The boot is crafted from premium Oak coloured leather which supports the natural movement of the foot. There is no break-in time, these boots are comfortable from day one. The durable TPU Outsole provides additional safety protection as it is heat resistant to 130ºC.
The boots have been tested to EN ISO clause 6.2.5 Water Resistance and have achieved excellent results in the Dynamic Water Penetration test. Just like all other boots in the Steel Blue range, the Heeler Met Bump S3 is CE S3 certified and compliant with BSI Benchmark and Intertec.